Helping People Find Qualified Emergency Vets In Their Area
Qualified Emergency Veterinarians
Local Animal Hospitals
24 Hour ER Vets
Every day people are looking for emergency vets in their local area. Our pets are part of our family and so we would do anything to keep them from harm but sometimes they get in trouble.
Dog eats a sock, worse yet your dog eats chocolate, cat falls off the top of the bookshelf and lands wrong, our reptile develops sores, the list goes on.
If you have had a family pet for a number of years you will understand the different kinds of health problems that can pop up. Knowing what to do immediately can be the difference between the life and death of our beloved pet.
In many cases our regular local vet can see our pet and know what is going on and how to treat them. In some cases that health problem is much more serious and requires surgery, over night stays and medications. This is where an Emergency Vet or Animal Hospital comes into the picture.
Just like our ERs, pets require similar treatments. The costs for an emergency vet can range from a few hundred dollars to a few thousand dollars, but what can you do but get them the help they need?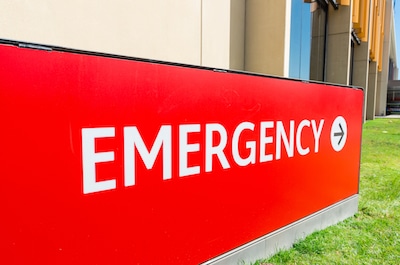 Do You Have A Sick Or Injured Pet? We Have Emergency Vets That Want To Help You!
Time is of the essence when it comes to an emergency, which means you need to find the closes animal hospital so you can get on your way quickly.
At Emergency Vets USA, we work hard to find the best local animal hospitals in your area. This allows you to get the quality care your pet deserves as quickly as possible.
Our partner veterinarians all offer:
Emergency Hours
After Hours and/or On-Call
Most Are Open 24/7
Certified Practitioners
Certified Specialty Practitioners
Many Locations Throughout The US
After we have gone through a list of requirements for a prospective veterinarian, we will add them to our list and will start recommending them to those seeking an emergency vet.
With over 915 cities in our database and thousands of vets, you can find information to help you make a quick decision. Please contact your local veterinarian who knows you and your pet for their recommendations. Please read our Disclaimer.
At Emergency Vets USA, we work close by with many veterinarians all across the country to make sure our information is up to date, is accurate and provides useful information for those who have to make a quick decision. We provide the clinic name, location, phone number, business hours and website address.
Find an Emergency Vet by State Below!
24 Hour Vets Near You
In most cases vets are not open 24 hours a day. If your pet has been injured and it is late at night you might be wondering "Is there a 24 hour vet near me?" Depending on where you live you might find one or two vets who are open 24 hours or will have an after-hours phone number to call.
Most major cities or those with populations over 100,000 will have at least one Emergency Vet clinic open 24 hours.
To speed up your search for finding an ER vet, don't look for a generic veterinary clinic as the majority of them will refer you to the nearest animal hospital who has an on-call ER vet.
Our directory of Emergency Vets shows their hours of operation. If they are closed, their website may tell you who to contact in the area who will be open after-hours. Keep in mind that there is usually at least one location near you that is open at nights and weekends.
Animal emergencies happen all of the time, which is why you will always find a clinic or animal hospital open, even after-hours, just like you would find an ER clinic open 24/7/365.
---
ER Vets Open on Saturday
If you are looking for an emergency veterinary open on Saturday, you should not have a problem locating one. Many city locations will have at least one vet who is open over the weekends to care for any of the emergency calls in the area. If you live in a rural area, you may have to drive 1+ hours to find an open vet on Saturday.
The problem you may find is "Is there an animal hospital open on Saturday near me?" This is because they are less likely to be open except in major US cities. If you live in a city with less than 50,000 population you might need to drive to your next larger city locations to find an ER vet open on Saturday.
If you are reading this, do not panic as you will definitely find the help you need no matter what time of day or week day it is. There is always someone who can take in emergency pet calls, you just might have to drive a little further to find that open clinic.
---
Vets Open on Sunday
The hardest day to find an open vet is Sunday. This is traditionally the day that most clinics are closed. Because of the type of service that vets offer you will still be able to find one that is open after-hours and open on a Sunday.
Emergencies can happen at any time to any animal. If Sunday comes and you find your pet sick or injured, maybe they were hit by a car or fell and broke a bone, you may panic thinking "Where can I find a Vet open on Sunday near me?"
Your first order of business is to NOT panic. Find an emergency vet near you, search by your city location and then make sure they have open hours on Sunday. If you do not find one that is open on Sunday check their website as they may list an animal hospital who will be open after hours and on Sundays.
Just like our ER clinics, pets also have the same type of clinics open to them no matter what day of the week it is.
---
Walk In Vet Clinics
Not all vets allow for walk-ins and that is because they have set appointments. If you are looking to walk into a clinic then you need to find an emergency vet. All emergency clinics or animal hospitals allow for walk-ins, but they will still need to know you are coming. Give them a call, let them know what happened and that you are on your way. This will give them a heads up and allow them to prepare for your arrival.
Depending on your type of emergency, they may need to call in additional specialists to assist. If you are in a small town, many clinics have on-call staff that are called when the need arises.
TIP – Always call ahead of time, let the Emergency tech know what happened as well as when you will be arriving.
---
After Hours Animal Hospitals
There is a difference between your local veterinarian office, emergency vets and animal hospitals. Your local vet who sees your pet for well-visits may have a set schedule. They are usually open Monday-Friday and closed weekends. So what do you do if your pet needs to be seen immediately?
Depending on your area, you should have an animal hospital that is open after-hours. You may have to drive 1+ hours to get to them, but most major cities will have at least one animal hospital that is staffed 24/7.
At your next vet visit be sure to ask what their policy is with emergencies and after-hours. Your veterinarian will know who you should see if their office is closed.
An animal hospital will be staff with specialist who can care for all sorts of emergencies. If you find your pet is sick or injured an animal hospital is where you will want to be. They will have additional resources available to them, additional equipment and expert staff who are qualified in different areas of veterinarian medicine. Similar to your local ER, they will be available for your type of emergency.
We hope that the information above will help you find the information you need to get your pet the help they need quickly.
If you know of a city location we are missing and should add to our list please contact us here.