Average Cost Of Emergency Vet Visits
Taking your pet to an emergency vet is similar to how we go to an ER or urgent care clinic.
Usually you will take your pet to an animal hospital when your regular vet is closed or the health of your pet is beyond what your local vet can handle.
Emergency veterinary clinics are usually open 24/7 and always have a qualified ER veterinarian on staff.
Emergency veterinary clinics are also there to handle crisis situations that your regular veterinarian may not have the capacity to take care of in their specific clinic setting.
For instance, various medical conditions require pets to be hospitalized overnight with care from veterinary nurses, and some general practice veterinary clinics just do not have the capacity to provide that service.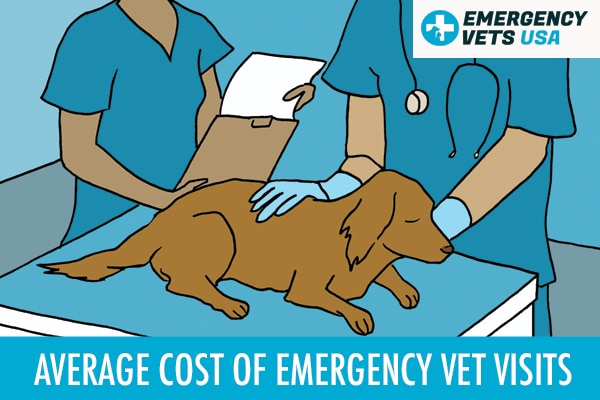 General Costs of Going To An Emergency Vet
Depending on the reason you are having to take your pet to the emergency vet clinic, the costs can vary drastically.
An emergency surgery is going to cost a lot more than an ER visit for a torn toenail.
The cost also may vary based off of the size of your pet, as larger dogs will need more medications and fluids, thus making their ER visit cost more than the cost for a small dog or cat.
The chart below provides a general breakdown of broad categories of diagnostics & treatments your pet may need at an emergency veterinary clinic.
These cost will range depending on where you live in the USA, how many vets are in your area and the time of care.
Procedure
Cats
Small Dogs
Large Dogs
Exam/Consultation
$100-150
$100-150
$100-150
General Bloodwork
$80-200
$80-200
$80-200
X-rays
$150-250
$150-250
$150-250
Ultrasound
$300-600
$300-600
$300-600
1-2 Day Hospitalization

(vomiting/diarrhea, seizures)
$600-1500
$600-1500
$800-1700
3-5 Day Hospitalization

(kidney failure, blocked cat, parvo)
$1500-3000
$1500-3000
$2000-3500
Wound Treatment & Repair
$800-1500
$800-2000
$1000-2500
Emergency Surgery

(bloat, foreign body, hit by car)
$1500-3000
$1800-3000
$2000-5000
Oxygen Therapy

(heart failure, pneumonia, asthma)
$500-2500
$800-2500
$1000-3000
As you can see the prices will range depending on the type of treatment.
The list above may not be what you pay for services in your area.
The prices are averages based on the type of treatment being offered.
Other costs not mentioned would be, medications, follow up appointments, other office fees.
For example, a dog that was hit by a car will need multiple follow up appointments which will increase the overall cost of their bill.
How To Pay Your Emergency Vet Bill
After your pet is examined and a plan is set forth to determine what diagnostics and/or treatments they need, the veterinary staff will provide you with an estimated bill.
This may vary location to location, but most emergency clinics require that you pay half your estimated bill up front and the remainder when you take your pet home.
When you take your pet home depends on the severity of their condition.
For example, if your dog was hit by a car, they may require multiple surgeries, follow up care, bandage replacement, oxygen, medications, etc.
These costs will add up over time. The emergency vet clinic will require payment for most services up front before you take your dog home.
Having a large estimated bill can be initially overwhelming for sure.
Top Two Ways To Pay For Your Emergency Vet Bill
Pawp – A New Way To Pay For Unexpected Vet Bills
For those looking for ways to pay for their emergency vet bill, Pawp (affiliate link, disclosure)is a newer idea that is similar to insurance but is different.
Unlike pet insurance, Pawp covers up to 6 pets in your home and allows you access to $3,000 for emergency medical care.
What attracts people to Pawp is their price of just $24/month for all of the benefits listed above.
They offer virtual care, where you can chat with a licensed veterinarian – this alone can save a bit of money by not having to bring your pet to a local vet every time.
Our Pick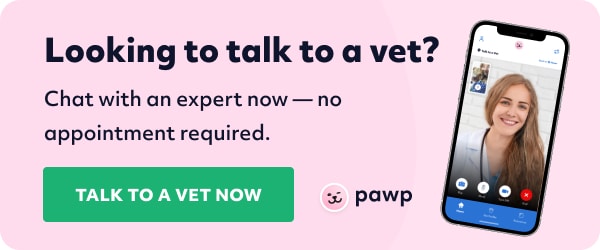 Are you worried about paying for your emergency vet bills? For those who want an alternative to pet insurance, Pawp offers a program that will cover the first $3,000 in emergency bills. Their program will cover up to 6 of your pets for one low monthly price. They also allow you to chat with a qualified veterinarian, without the need to setup an appointment or travel to a vet.
affiliate link
Care Credit – Veterinary Financing
Almost all emergency clinics take "Care Credit-Veterinary Financing", which can help you pay your emergency bill owed to them without having to take it all out of pocket immediately.
Care Credit is essentially a pet healthcare credit card. You can apply for it online even while you are waiting at the clinic.
Once you are approved, Care Credit pays everything up front and you pay Care Credit back over the course of a few months, usually interest free.
This can help ease the burden of having to pay a large bill all at once.
Once approved for Care Credit you can use this new form of payment for all future vet costs.
Don't Hesitate To Ask For Help With Your Bill
Emergency clinics that are looking out for you and your pet's best interests.
They can be a great place to get life saving treatment when your regular vet is closed.
When your primary veterinarian opens, they may suggest transferring care to them which may help save in costs.
If you are struggling with paying your vet bill, you can ask for discounts or see if they can help with the costs of some of the procedures.
Depending on the emergency vet, you might be able to get a discount of 30-50% off your bill.
No matter what you will have to pay that bill before leaving, whether you put it on credit card, care credit, Pawp, or have family/friends help.
It might seem like some clinics, especially emergency veterinary clinics are out to take your money.
This is more often not the case and they just want to help you and your pet.
It may be tempting to try to wait things out and avoid taking your pet to an ER clinic, but if you are concerned about your pet's condition it is always best to have them evaluated.
If you are not sure if it is an emergency, you can always call your nearest emergency clinic and tell them what is going on with your pet.
They can help guide you in the right direction on if you should go ahead and take them in or if it is something that can wait until the next day.
When To Contact An Emergency Vet
Just like an ER for people, our pets have a similar option to get immediate help and that is an Emergency Vet or Animal Hospital.
The cost of going to one of these facilities will be more than if you went to your local veterinarian.
Most general vet practices will have you go to an emergency vet for life threatening illnesses or injuries.
Some veterinarians are not equipped or can handle certain injuries, so if you are in need of immediate help it is always best to contact your veterinarian before bringing your pet to them.
An emergency is an injury or illness that cannot wait to be dealt with, such as: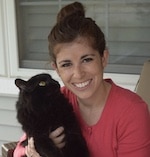 Leslie Brooks graduated from the University of Tennessee College of Veterinary Medicine in 2012. After graduation she moved to Indianapolis to do an intensive one-year internship at a specialty practice and then began working as a small animal general practitioner. She ran her own house call practice for three years, visiting pets in people's homes. Currently, she works part time in clinical practice and volunteering her free time to serve pets of the homeless. Read more about us here.