Emergency Vets in Salem, OR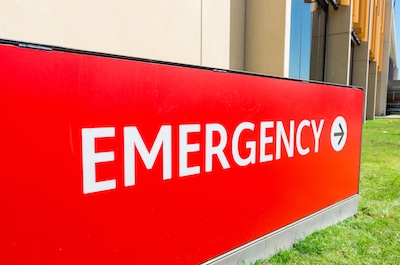 In some areas, pet owners can search among existing emergency vet clinics and select one that meets their requirements. Nowadays, there are many 24/7 veterinary clinics you can go to in case you notice any problem with your pet. The only challenge is to select the best animal hospital. The following guidelines would be useful in selecting a good emergency clinic for your pet particularly in the city:
Find the clinics nearest you
Google is a friend. With the right search keywords and localization terms, you can easily find a reputable emergency clinic on Google. Simply key-in search phrases like "emergency vets near me" or "emergency animal clinic in Salem OR" in Google and you can find many possible options.
Seek suggestions from various sources
Asking from trusted friends about a good emergency pet clinic would help. Online reviews or social media would be more helpful to those who are new to an area and might not know of a good veterinarian.
As much as possible, you must start looking for a nearby emergency clinic today. This way, you are prepared if your pet gets injured or suffers from a rare illness.
---
Salem Veterinary Emergency Clinic
Number: 503-588-8082
Address: 3215 Market St NE, Salem, OR 97301
Website: salemervet.com
Description: Salem Veterinary Emergency Clinic has been a community leader in emergency veterinary medicine for more than 30 years. We are the primary facility for emergency referrals from all veterinary practices in the greater Salem area.
Hours of Operation:
Monday – Friday: 8:00am – 5:00pm
Saturday – Sunday: 24 Hours
---
VCA Salem Animal Hospital
Number: 503-581-1438
Address: 4053 Commercial St SE, Salem, OR 97302
Website: vcahospitals.com
Description: When you and your pet arrive at our hospital, you will be greeted by our friendly client service representatives. If you are not already in our client/patient computer system, you will be asked to complete a simple Client/Patient Information form. Our emergency technician will take a brief history and triage your pet's condition. The veterinarian will see patients in accordance to the severity of their illness or injury. Depending on the caseload, there may be a wait associated with your visit. A veterinarian will examine your pet and discuss recommended treatments or testing. An estimate of charges will be prepared for your approval and a signature is required to begin treatment. Initial payment is due at the time of hospitalization or the initiation of treatment and the balance is due upon discharge. You will leave with a copy of the exam report and your pet's regular veterinarian will receive a copy of the complete medical record after each visit with us.
Hours of Operation:
Monday – Sunday: 24 Hours
---
West Salem Animal Clinic
Number: 503-588-2903
Address: 1174 Edgewater St NW, Salem, OR 97304
Website: westsalemanimalclinic.com
Description: Although each animal is unique, there are several common indications that your pet may be in serious distress and in need of emergency care. This list does not cover every indication of an emergency situation.
Hours of Operation:
Monday – Wednesday: 8:00 am – 5:30 pm
Thursday: 8:00 am – 7:00 pm
Friday: 8:00 am – 5:30 pm
Saturday: 8:00 am – 4:00 pm
Sunday: Closed
---
Four Corners Animal Hospital
Number: 503-399-1363
Address: 159 Lancaster Dr NE, Salem, OR 97301
Website: fourcornersanimalhospital.com
Description: Our clinic is equipped to handle everything from regular health checkups to emergency services including surgery. We use all state of the art equipment and the newest technological advances to ensure a clean, safe, and welcoming environment.
Hours of Operation:
Monday – Friday: 7:30 am – 6:00 pm
Saturday: 8:00 am – 2:00 pm
Sunday: Closed
---
Vitality Pet Hospital
Number: 503-399-8300
Address: 4580 Commercial St SE, Salem, OR 97302
Website: vitalitypethospital.com
Description: Vitality Pet Hospital offers the Salem animal community emergency veterinary services as well as medical, surgical, and dental veterinary care. We also offer Wellness Plans through VCP that allow you to spread out preventative care costs with a low monthly fee! With an in-house pharmacy and lab, our facility offers a one-stop shop for your pet's health and medical care.
Hours of Operation:
Monday – Friday: 8:00 am – 6:00 pm
Saturday: 8:00 am – 4:00 pm
Sunday: Closed
---
My pet needs help, who should I contact?
Veterinarians undergo eight years of school and training before they can acquire a license.
Veterinarians may, however, specialize in various practices that distinguish them from the other. Below are some common paths taken by vets:
They are the regular type of animal doctors who can examine and treat a broad range of major and minor diseases. Aside from providing medical services during clinic hours, some veterinarians offer after-hours services. If you need their services, you can call them through the provided contact hotline.
To learn about your options, you can consult with your pet's veterinarian. It's highly likely that your pet's current emergency animal doctor is a general practitioner.
Some general practitioners thrive in handling emergency cases at 24-hour clinics. They graduated from veterinary medicine and trained for an additional three to five years to improve their skills in providing emergency and critical care to animals. With their exposure to various cases and types of animals, emergency veterinarians can easily handle any type of situation. Many veterinarians have shown success while acting both as a general practitioner and an ER vet.
On top of 8 years of study to become a veterinarian, specialists undergo at least 4 or more years of intensive training and education to specialize in a specific field of veterinary medicine.
In emergency clinics, you can expect a specialist certified by the American College of Veterinary Emergency and Critical Care (ACVECC) to attend to your pet and provide the necessary medical attention it needs. Other emergency clinics have various specialists available such as neurologists, surgeons, cardiologists, and more. There are many Salem veterinarians certified by the American College of Veterinary Emergency and Critical Care.
What to Expect at an Emergency Animal Hospital
If your beloved pet gets sick or injured, your priority is to visit an emergency clinic. This may include breathing rate exams, heart rate exams, and temperature exams.
If the animal has a broken leg due to an accident, the doctor may also check for signs of internal injuries so that they can recommend the most appropriate medical procedure. Emergency clinics tend to be full of people waiting in line so don't panic. Noticeable swelling may mean trauma or fracture, but also internal bleeding.
They may require undergoing a series of lab tests for major diseases and disorders. The treatment plan will contain the pet's condition plus the required medication and medical procedure. Be sure to ask how critical the condition is and if you can take your pet to a regular veterinarian. Also, ask for the possible signs and symptoms that you need to watch.
What symptoms should you pay attention to
Pets can't communicate how they feel with their owners. As such, it is your job to look out for specific symptoms. Make a checklist and take note of your observation so you can explain the condition to your pet's veterinarian.
Here are some signs that your pet requires immediate medical attention:
Severe depression and loss of consciousness
Injuries
Difficulty breathing
Seizures
Staggering,
Lameness
Sudden paralysis
Inability to urinate or defecate
Swollen abdomens
Severe vomiting or diarrhea
The symptoms above are only general examples. There is a long list of emergency cases that you can request from your pet's doctor.
It's crucial for you to understand the body language and behavior of your pet because that's their only means of communicating with you. If you notice anything out of the ordinary, feel free to consult with a medical expert as soon as you can. Contact an emergency animal clinic as soon as possible.
How much does it cost to have a pet hospitalized in Salem
Fees associated with consulting an ER vet in Salem may vary depending on what tests and treatment your pet had to receive. A pet insurance provider claimed that the average cost lies around $800 to $1,500. However, a budget of at least $300 is enough to cater for a mere emergency exam, treatments, and medications.
In case the situation calls for surgery or other types of medical intervention, you may need to spend around $4,000.
Your first option is to get pet insurance. Ask your agent about plans that cover routine care. Consult with your pet's doctor about the insurance coverage in case you're not sure which policy provider you should pick. You can also use Care Credit by extending your credit line to cover for your pet's medical expenses.
Finally, you can set aside money each month so that you have an emergency fund ready any time you need it. Allot a certain percentage of your income for your emergency fund, so you have enough money to spend on your pet's medical bill.
Regardless of the method, you choose to generate the required funds for potential emergency cases, make sure that you start saving or investing early. Just be sure to prepare for the situation as soon as possible because dealing with your pet's health condition is hard enough.