Emergency Veterinarians in Potomac, MD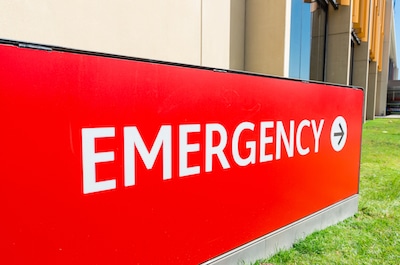 There are emergency vet clinics in most areas across the USA. Finding a good emergency medical clinic is your best option to ensure that your pet receives top-notch medical attention. The following guidelines would be useful in selecting a good emergency clinic for your pet particularly in the city:
Ask advice from your existing veterinarian
If your beloved pet already has an attending veterinarian, you can ask for an emergency veterinary service referral in Potomac. They should be able to provide you with a short list of potential clinics that can provide medical care 24 hours a day, 7 days a week.
You can search the Internet using the terms "emergency vet Potomac MD" or "animal hospital near me" to find an animal care hospital during an emergency. You can also find a list of qualified ER vets near you by looking at our list below. We provide phone numbers and driving directions to help you get on your way.
If your friends or family also have pets, you should try asking for their suggestions. They might know a seasoned emergency vet clinic in the area. They may know a reliable emergency vet in the area.
---
Falls Road Veterinary Hospital
Number: 301-983-8400
Address: 10229 Falls Rd, Potomac, MD 20854
Website: fallsroadvet.com
Description: We have a veterinarian and other staff on duty 6 days a week who are trained and equipped to handle urgent care. If you ever feel that your pet needs emergency treatment do not hesitate to call or come in immediately.
Hours of Operation:
Monday – Wednesday: 8:00AM – 8:00PM
Thursday – Friday: 8:00AM – 6:00PM
Saturday: 8:00AM – 1:00PM
Sunday: Closed
---
Potomac Animal Hospital
Number: 301-299-4142
Address: 10020 River Rd, Potomac, MD 20854
Website: potomacanimalhospital.com
Description: Potomac Animal Hospital is equipped to handle most emergency cases during business hours.
If you are having an emergency, Contact Us.
Hours of Operation:
Monday – Friday: 7:30AM – 6:00PM
Saturday: 7:30AM – 1:00PM
Sunday: Closed
---
Weitzman Richard A DVM
Number: 301-762-2070
Address: 8924 Liberty Ln, Potomac, MD 20854
Website: libertyfallsvet.com
Description: During normal business hours, Liberty Falls Veterinary Clinic is available to respond to any kind of medical emergency or need for urgent care you pet might experience.
Hours of Operation:
Monday – Wednesday: 8:00AM – 7:00PM Tuesday & Friday: 8:00 – 6:00
Saturday: 8:00AM – 12:00PM
Sunday: Closed
---
What is an Emergency Veterinarian?
Emergency veterinarians are professionals who undergo extensive training of about eight university years in order to take good care of your cat, dog, bird or other pets. After vet school, the animal doctor has the option to extend his study and training further. Below are some of the types of animal doctors you can choose from:
This is primarily your pet's veterinarian, who you frequently visit for minor illnesses and routine checkups. The general practitioners usually help in emergencies during open hours and refer people to after-hour emergency clinics when closed. Moreover, in some places, general practitioners handle all emergencies and even get telephone contacts for those clients in need of veterinary services after working hours to call. Most general practitioners are members of the American Veterinary Medicine Association (AVMA).
This category of veterinarians involves general practitioners who choose to work in emergency clinics and will handle thousands of pet emergencies in their career time. Equally, the animal ER veterinarians can use more specialized equipment and so become quite competent to handle emergencies very fast. Others are integrated medicine like acupuncture, laser therapy, and massage and laser therapy. In some places, these emergency services are open for 24 hours, and the animal ER veterinarians work with the pet owners and their primary care veterinarian to ensure the animal receives quality treatment.
Since most emergency vet clinics have other veterinary specialists like surgeons, neurologists, and cardiologists, it is likely that in these clinics the pets would be attended to by professionals with emergency and critical care veterinarian skills.  In the United States, specialist veterinarians are certified by the American College of Veterinary Emergency and Critical Care (ACVECC) to provide the highest quality pet care in case of medical crisis. Almost all major cities have a number of ACVECC-certified veterinarians available.
What to expect at an emergency animal hospital
In the emergency vet clinic, a veterinarian conducts a full physical examination on the pet. Based on the findings other diagnostic tests and analysis covering urine, blood, infectious diseases, parasites, x-rays, and ultrasound may be conducted. The detailed physical examination covers many areas of the pet such as heart rate, breathing rate, temperature, gum color, hydration, mental state, ability to walk, abdomen, chest and many more.
Common Symptoms of Pet Emergencies
Below are some general symptoms you must check. If you observed these symptoms, drive to the nearest emergency care center for pets:
Loss of appetite accompanied by a bloated belly
Loss of consciousness
Breathing difficulty
Body paralysis
Non-stop vomiting and pooping
Broken leg or arm
Severe trauma
Excretion problems
Severe seizure attacks
Notably, pets often tend to hide their pain a lot better compared to human beings thus making it a bit difficult to tell the full depth of the injury or the diseases affecting your pet.
Emergency Vet Clinic Visit Costs
Treatment of pests is generally perceived to be costly, with an average of $800 to $1,500 per visit. The cost also varies based on pet type and ailment condition. For instance, dogs are generally more expensive than cats, and an emergency exam with necessary treatments and medications will cost about $300 while severe conditions like intensive care cost about $4,000 and above.
It is also important to prepare in advance for the payment which often is due during treatment as this eases the process and enables timely treatment and care for the pet. A variety of pet insurance plans are available in the market from which pet owners can choose the most appropriate. Some pet insurance plans cover some or all costs, and others cover routine care. Further, many pet insurance policies include a condition for proper care of pets and vaccination. One popular insurance plan is Care Credit option, a credit line used frequently for peoples' medical or dental expenses but which also offers medical coverage for pets. Another form is the traditional technique of setting aside small amounts of money on a monthly basis for an emergency fund.