Emergency Vets in Frederick, MD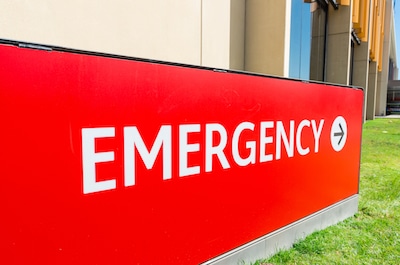 There are emergency vet clinics in most areas across the USA. Since there are many available 24-hour clinics in the area that caters to emergency pets, it might be a bit challenging to find the right one for you. To ensure that you select the best emergency animal clinic for your beloved pet, you can check out our guide below.
Thanks to the Internet, you can easily search for places near you that are right for your pet. If your regular vet does not offer emergency services then search for places near you such as, "emergency vets in Frederick Maryland". This will bring up a list of places that should offer emergency care. You can also check out our list of qualified animal hospitals below. We provide phone numbers and driving directions that will get you on your way quickly!
Consult with your pet's vet
Your regular vet may offer emergency care and they may employ an ER tech. Give them a call and see if they can see your pet, if they cannot they will most likely have a referral or offer you options on where to take your pet. Remember that time is important here, you need to find out where to take your pet as quickly as you can.
Get sound advice from trusted sources
If your friends or family also have pets, you should try asking for their suggestions. They might know a seasoned emergency vet clinic in the area. Ask from reliable people you know otherwise; you can look up online feedback and ratings for the best options. Finding a reliable emergency clinic early on allows you to prepare for the worst-case scenario. Follow the steps above and select at least three clinics.
---
CARE Veterinary Center
Number: 301-662-2273
Address: 1080 W Patrick St Suite 32, Frederick, MD 21703
Website: carefrederick.com
Description: CARE Veterinary Center is a leading specialty and emergency service facility located in the heart of Frederick, MD, but serving the tri-state area. Our team of surgeons, internists, veterinarians and technicians are always here to help care for your pet.
Hours of Operation:
Monday – Sunday: Open 24 Hours
---
Frederick Veterinary Center LLC
Number: 301-694-8015
Address: 7421 Grove Rd, Frederick, MD 21704
Website: frederickvet.com
Description: At Frederick Veterinary Center we strive to offer not only sound advice, but also optimal veterinary care, thus allowing you the enjoyment of your companion for a maximum number of years. Our job is not only to treat your pet when he or she isn't feeling well, but also to help you learn how to keep your best friend happy and healthy!
Hours of Operation:
Monday – Wednesday: 7:30 am – 6:00 pm
Thursday: 7:30 am – 7:00 pm
Friday: 7:30 am – 6:00 pm
Saturday: 8:00 am – 2:00 pm
Sunday: Closed
---
Glade Valley Animal Hospital
Number: 301-663-5591
Address: 2420 Monocacy Blvd, Frederick, MD 21701
Website: gladevalleyanimalhospital.net
Description: Our practice has been dedicated to serving the communities of Walkersville, Libertytown, Woodsboro, Thurmont, Frederick and the surrounding area with quality medicine and surgery since 1948.
Hours of Operation:
Monday: 7:00 am – 7:30 pm
Tuesday: 7:00 am – 5:30 pm
Wednesday: 7:00 am – 7:30 pm
Thursday: 7:00 am – 5:30 pm
Friday: 7:00 am – 5:00 pm
Saturday: 7:30 am – 1:00 pm
Sunday: Closed
---
Kingsbrook Animal Hospital
Number: 301-631-6900
Address: 5322 New Design Rd, Frederick, MD 21703
Website: kingsbrookvet.com
Description: Our highly trained staff members are available to provide emergency medical care for your pet during normal business hours. We are equipped with the expertise and state of the art medical equipment to treat your pet for most medical conditions.
Hours of Operation:
Monday: 7:30 am – 7:30 pm
Tuesday: 7:30 am – 7:30 pm
Wednesday: 7:30 am – 6:00 pm
Thursday: 7:30 am – 6:00 pm
Friday: 7:30 am – 7:30 pm
Saturday: 7:30 am – 1:00 pm
Sunday: Closed
---
What kind of pet doctor should I see?
Veterinarians spend years to study anatomy, physiology, and pathology of animals. Like doctors for humans, they undergo a series of training to ensure that they are skilled enough to save animals. After vet school, the animal doctor has the option to extend his study and training further. Below are some of the types of animal doctors you can choose from:
These are the regular veterinarians trained in veterinary for four years and who provide routine pet care and also the treatment for a variety of minor diseases. Subsequently, all veterinarians are efficiently skilled in emergency care. These practitioners are also in contact with local emergency clinics, which provide 24-hour veterinary services to ensure pets get quick treatment and care in the event of an emergency. Most general practitioners are members of the American Veterinary Medicine Association (AVMA). They also establish a working relationship with local emergency health centers, to provide 24-hour care for your pets.
Animal ER veterinarians encounter a higher number of pet emergencies throughout their career and hence are efficiently able to handle emergencies on time. Equally, the animal ER veterinarians can use more specialized equipment and so become quite competent to handle emergencies very fast. Others are integrated medicine like acupuncture, laser therapy, and massage and laser therapy. In some places, these emergency services are open for 24 hours, and the animal ER veterinarians work with the pet owners and their primary care veterinarian to ensure the animal receives quality treatment.
Specialists are veterinarians who have experienced further training, with usually 8 or more years of university education. The additional education is aimed at focusing on one field of veterinary medicine. Since most emergency vet clinics have other veterinary specialists like surgeons, neurologists, and cardiologists, it is likely that in these clinics the pets would be attended to by professionals with emergency and critical care veterinarian skills. As we generally know, a good specialist should provide quality and intense care for your pet. In the United States, specialist veterinarians are certified by the American College of Veterinary Emergency and Critical Care (ACVECC) to provide the highest quality pet care in case of medical crisis. Almost all major cities have a number of ACVECC-certified veterinarians available.
What to expect at an emergency animal hospital
In an emergency clinic, a full physical examination is done on the pet focusing on numerous areas including; heart rate, chest, breathing rate, temperature, hydration, abdomen, mental state, gum color, and walking ability among others. The thorough exam is done to evaluate and then identify any other possible serious complications and internal injuries even when the problem is evident like a broken leg due to a car accident. The detailed physical examination covers many areas of the pet such as heart rate, breathing rate, temperature, gum color, hydration, mental state, ability to walk, abdomen, chest and many more.
The physical exam findings may trigger further diagnostic tests like blood work, urine analysis, x-rays, ultrasound, infectious diseases, parasites, and others. This full evaluation is intended to prepare an appropriate treatment plan based on the pet's condition, and the plan may entail hospitalization, surgery or discharge to go home with medications.
Common Symptoms of Pet Emergencies
As much as possible, if you see any of the symptoms below, you must contact your pet's veterinarian right away:
Difficulty breathing
Unconscious and unresponsive
Severe injury
Excessive bleeding or change in skin color indicating internal
bleeding
Paralysis
Limping or swelling indicating a fracture
Inability to urinate or defecate
Excessive urination or defecation
Presence of blood in urine, stool or vomit
A bloated and hard abdomen
Lack of appetite
Severe vomiting
Seizures
Notably, pets often tend to hide their pain a lot better compared to human beings thus making it a bit difficult to tell the full depth of the injury or the diseases affecting your pet.
Emergency Vet Clinic Visit Costs
Although information by one pet insurance provider indicated an average cost ranging from $800 to $1,500 per visit across the country, the general charges of an emergency exam with necessary treatments and medications are about $300. However, the cost of an emergency vet visit varies highly based on the nature of the pet's condition. For instance, a severe condition where a pet requires hospitalization or a major surgery will increase charges fast while intensive care services may cost $4,000 or more.
It is also important to prepare in advance for the payment which often is due during treatment as this eases the process and enables timely treatment and care for the pet. A variety of pet insurance plans are available in the market from which pet owners can choose the most appropriate.
Some pet insurance plans cover some or all of the costs while others cover routine care, which is commendable. There is also the popular Care Credit option, a credit line often used for medical or dental expenses for humans and also covers medical care for pets. Then there is the traditional method where a person sets aside small amounts of money monthly for an emergency fund. When choosing an insurance plan, it is advisable for clients to consult a veterinarian to be guided on the best option to cover a pet.