When To Euthanize A Dog With Liver Failure
Taking care of a dog with liver failure can be a roller coaster ride for many pet owners.
There are many ups and downs, good days and setbacks.
When your dog is having a good day you start to regret the feelings you had the day before, that it is time to put them down.
This can be a very challenging and emotional time for you, your dog, and your entire family.
In this article we will talk about liver failure in dogs, and try to help guide you on how to know when it may be the right time to consider euthanasia.
Signs And Symptoms Of Liver Failure
Dogs with liver failure can show any number of symptoms.
Some of the more common liver failure symptoms are: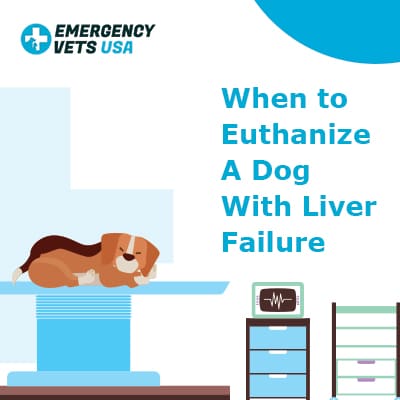 Sometimes dogs can slowly develop liver failure and not show any indication anything is wrong until it gets really bad.
That is why it is good to not ignore any subtle changes to your dog's behavior, routine, and appetite.
If you are ever concerned something is just not quite right with your dog, always schedule an appointment with your veterinarian.
Other times, such as if your dog ate something toxic, they can develop liver failure very quickly and become sick within a 24-hour time period.
Stages of Liver Failure
Early Stages
In the early stages of liver disease, when the liver is still able to function to a certain degree, your dog may just be more tired than usual or have a finicky appetite.
They also may have some nausea and vomiting.
Usually this is when there is on-going inflammation in their liver due to an underlying cause, which we will discuss in a bit.
If caught early enough, liver disease can be slowed down by starting your dog on special supplements and food.
Middle Stages
As liver disease progresses and your dog's liver stops being able to do the things it normally does, you may notice more obvious things.
These include a yellow discoloration to your dog's skin, the inner aspect of their ear flaps, or to the white of their eyes.
This discoloration is called "jaundice".
You may also notice your dog's abdomen becoming distended.
The liver makes a protein, called albumin, which helps to keep fluid within your dog's blood vessels and organs.
When the liver stops being able to make albumin, your dog will leak fluid into the spaces surrounding their organs in their abdomen, causing them to look "pot-bellied".
End-Stage Liver Failure
Once in end-stage liver failure, your dog may have significant depression and a change in mentality.
Other neurologic symptoms may include blindness, dizziness, seizures, disorientation, pacing, and aimless wandering.
This is called "hepatic encephalopathy".
This occurs because a normal function of the liver is to rid the body of toxins and to metabolize proteins.
As the liver stops doing its job, toxins begin to build up in your dog's body, causing these neurologic effects.
The liver also makes blood clotting factors when it is healthy. Once in end-stage liver failure, another risk to your dog is losing blood since they cannot make blood clots properly.
Causes Of Liver Failure In Dogs
There are many causes of liver disease and failure in dogs.
All ages of dogs can be affected and there are even some conditions that your dog may be genetically predisposed to or born with that causes liver failure.
Certain breeds are even more at risk.
Inherited Liver Disorders:
Acquired Liver Disorders Can Be Caused By:
The inherited liver disorders usually start to cause problems early on in life.
This is especially true of dogs with a portosystemic shunt. They usually have stunted growth and will show neurologic signs even as puppies.
The acquired liver disorders usually do not show up or cause problems until a dog is middle-aged to older.
The exceptions to this are if they acquire an infection, have some sort of traumatic episode, such as getting hit by a car or suffering from heat stroke, or if they ingest something toxic.
Toxic Substances That Can Cause Liver Failure In Dogs
These substances need to be kept away from your dog at all cost.
Their toxic properties can lead to liver failure.
Try to keep these substances away from your dog.
If your dog accidentally ingested too many pills of a medication they were prescribed, call your vet right away to see if it was one that could have harmful effects on their liver.
Also, if your dog ever accidentally gets into any of your own medications, always call your vet to see if it was one that could be toxic to your dog.
Diagnosing Liver Failure In Dogs
To diagnose liver failure, your dog will need to have comprehensive blood work performed.
This will involve checking what is called a Complete Blood Count and a Chemistry Profile.
It will also usually include checking a Bile Acids test. The Bile Acids test gives a good indication if your dog's liver is able to metabolize proteins and get rid of toxins or not.
You dog may have already been diagnosed with elevated liver enzymes and now is the time to find out why.
Your vet may also want to schedule an abdominal ultrasound for your dog.
An ultrasound allows your vet to look inside your dog's abdomen and liver.
This helps them get a better idea of what the underlying cause for liver disease could be such as cancer, infection, gall-bladder issue, or something else.
Treatment For Liver Failure
Unfortunately, once your dog's liver has progressed to failure, there is not much that can be done.
Treating the symptoms with anti-nausea medications, anti-diarrheal medications, and pain medications is all you can do.
If an underlying cause is identified, treatment can also be aimed at that.
This may include antibiotics or anti-parasitics for an infection or surgery to remove a tumor or to fix a portosystemic shunt.
Special Food
There are special prescription foods available for dogs with liver disease and liver failure.
These foods are formulated to help prevent the occurrence of neurologic signs in your dog and are easily digestible.
These can greatly help your dog's quality of life, assuming your dog will not be too picky and will eat the food.
Supplements
There are supplements for everything these days. However, supplements for liver disease are definitely worth starting your dog on to help slow down the progression of liver ailments.
SAMe (s-adenosylmethionine) and Silybin are two great supplements for liver disease in dogs.
These supplements help to reduce oxidative damage to your dog's liver cells, which is a side effect of all of the inflammation that is causing stress on their liver.
Life Expectancy Once A Dog Develops Liver Failure
A dog with liver disease has a life expectancy of a few months to years left to live.
The life expectancy ultimately depends on the cause of the liver failure, how far progressed it is once diagnosed, and the available treatments for your individual dog.
This can vary substantially based on the above information.
If it is caught early, some dogs can live for many months to a few years.
However, if it has already progressed by the time of diagnosis, your dog may only have a few weeks to months of decent quality of life left.
For instance, certain types of cancers can slowly take over until there is not much that can be done for them except keeping your dog as comfortable as possible and treating the symptoms your dog may have.
When To Consider Euthanasia
Deciding when is the "right time" to euthanize a dog can be an agonizing process.
Liver disease is an especially difficult case because your dog can still have really good days, but also very bad days.
You never know which one you will wake up to.
If you feel comfortable and are able, talk with as many people as you can.
Family, friends, your veterinarian and their office staff can help you cope with this decision.
Other people may have gone through the same situation and can be great resources for helping you cope. Talk things through, and get an idea for what to expect and what helped them make their decision.
Pay attention to your dog, are they having more bad days than good?
Are they able to get up and walk around, doing some of the things they used to enjoy?
Are they able to hold their bladder and bowel movements until they get outside or are they starting to have a lot of accidents in the house? Do you still see a light in their eyes?
There is no clear cut answer on this decision and it will be different for every dog.
Keep giving them as much love and care as you can. Talk with your veterinarian about your concerns, and try to gauge your pet's comfort and pain levels daily.
Also See: When To Euthanize A Cat With Liver Failure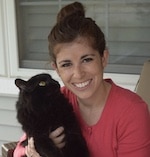 Leslie Brooks graduated from the University of Tennessee College of Veterinary Medicine in 2012. After graduation she moved to Indianapolis to do an intensive one-year internship at a specialty practice and then began working as a small animal general practitioner. She ran her own house call practice for three years, visiting pets in people's homes. Currently, she works part time in clinical practice and volunteering her free time to serve pets of the homeless. Read more about us here.