Types Of Cat Vomit – What Does It Mean For My Cat?
Just like you and I, our cats will struggle with an upset stomach from time to time.
Stumbling across a pile of vomit is not uncommon for a cat parent, especially if your cat is known to struggle with hairballs.
No pile of cat vomit is alike, as their vomit can range greatly in terms of texture and color.
Each vomit consistency can offer a peek into a cat's digestive health status, so it's important to take notice of what each pile has to offer in terms of clues.
To help you better understand your cat's upset stomach going forward, let's discuss some of the most common types of cat vomit below.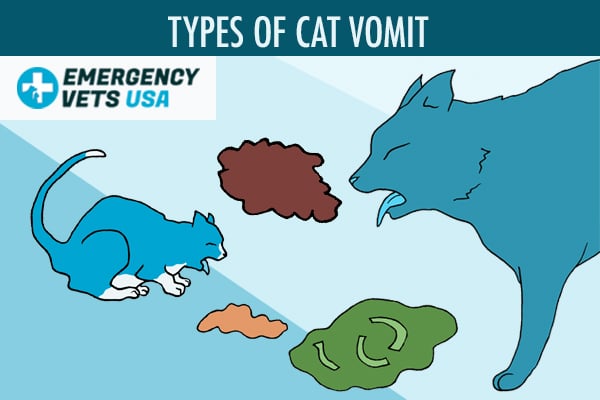 How To Know If It's A Hairball Or Vomit
Distinguishing between cat vomit and hairballs can be extremely challenging for some cat owners.
Some hairballs will be accompanied by bile and other stomach contents, making it even more difficult to tell the two apart.
To help you identify a hairball versus actual vomit, let's offer you a couple tips.
When determining if the pile of stomach content is a hairball or not, it's important to examine the shape of the material.
Most hairballs will be slender and cylindrical in shape, as they tend to form a tube-like structure as they travel up the esophagus.
Not only is the shape of the material important to examine, but so are the contents themselves.
While there may be some bile or liquid in a hairball, the majority of the material will be cat hair.
In addition to examining the appearance of the hairball itself, it's important to account for your cat's current behavior as well.
While most cats will be symptom free after expelling their hairball, a vomiting cat will typically display other forms of GI upset.
A cat that is vomiting may appear lethargic, shy away from their food, and even experience diarrhea.
Most Common Causes Of Vomiting In Cats
There are many underlying conditions that can lead to nausea and vomiting in our feline friends.
GI upset is quite common in cats of all kinds, as they can fall victim to plenty of harmful invaders that can impact gut health.
Some of the most common causes of vomiting in cats includes:
Sudden diet changes
Dietary indiscretion
Bacterial infections
Viral infections
Intestinal parasites
Pancreatitis
Foreign bodies
Metabolic issues like kidney disease, diabetes, cancer, etc.
Due to the fact that vomiting is a symptom of so many potential illnesses in cats, we always suggest reaching out to your vet at the first sign of GI upset.
Types Of Cat Vomit
Now that you feel confident in identifying hairballs when they occur, it's time to discuss the many different textures of cat vomit you may see on your carpet.
While the texture or color of your cat's vomit can never offer a definitive diagnosis, it can provide some clues that your veterinarian will appreciate.
Chunky Cat Vomit
If your cat produces chunky vomit, this typically means that there is food present in their vomit.
The details of the kibble or food material may be difficult to make out, but the chunky consistency proves that their stomach was not empty at the time of vomiting.
The presence of chunky vomit could point to the fact that your cat vomited before their body had the chance to digest their last meal, or even that last thing they consumed is the cause of their GI upset.
This can also mean that their food is unable to move past the stomach and through the intestinal tract, leading to the suspicion of a foreign body in some cases.
Liquid Cat Vomit
If your cat is vomiting liquid, this typically points to the fact that they are vomiting on an empty stomach.
This could mean that they have vomited some time after their last meal, or even that they are avoiding food altogether.
Though liquid vomit does not point to a specific diagnosis, it may rule out the possibility of being ill due to something they just ate.
This often means that a cat is experiencing prolonged nausea, and this could be due to an underlying issue that needs addressing.
Mucus Cat Vomit
Mucus is produced naturally within a cat's stomach and intestines.
Mucus helps to protect the intestinal tract from any acid present, preventing any serious damage to the GI tissue.
Some mucus in a cat's vomit is to be expected, but excessive mucus production can point to the possibility of inflammation within the stomach.
This occurrence won't often change your cat's diagnosis, but it's always worth mentioning to your vet.
Undigested Food Vomit
If undigested food is present in your cat's throw up, this often means that they have vomited soon after their last meal.
The presence of undigested food often means the material was not in the stomach for long, as the stomach acids did not have the chance to begin their breakdown process.
This could mean that your cat ate too much, ate too quickly, or even that they were active soon after eating.
If this happens often, we suggest letting your vet know.
Foamy Cat Vomit
Each time your cat vomits, you can typically expect to see a small amount of foam mixed in.
Foam is often created as the cat begins to heave, as air is pushed back and forth within the mouth.
Foamy vomit does not offer any additional insight when determining the cause of their nausea, but you do tend to see more of it when a cat vomits on an empty stomach.
Foreign Material Cat Vomit
If you see foreign material in your cat's vomit that does not resemble food, this can point to the possibility of your cat eating things they should not.
Cat owners have found items ranging from pieces of string to hair ties in their cat's vomit, proving that these feline friends are getting their paws on things they should not be eating.
Even if you think your cat has vomited up all the foreign material, we still suggest reaching out to your vet for guidance.
This can point to the possibility of your cat still having non-food items in their stomach, and this will need to be addressed as soon as possible.
The Importance Of Examining Your Cat's Vomit
As we mentioned above, it's not often that the texture of your cat's vomit can offer a definitive answer of what's causing their GI upset.
However, the appearance of your cat's vomit can always offer helpful clues that will point your vet in the right direction.
The type of vomit your cat expels can tell your vet whether or not they have eaten recently, if they are eating things they should not have, and even if there is a possibility of irritation within the stomach.
We always suggest either taking a photo of the vomit your cat produces, or even bringing in a sample to your vet.
When To See The Vet When Your Cat Vomits
If your cat is experiencing sudden nausea, you may wonder when it is time to seek veterinary care.
Though a call to your vet's office is always recommended anytime you are concerned, there are some tips to help you make the best decision.
If your cat vomits once and is acting fine otherwise, it is typically okay to monitor them closely without an immediate trip to the vet.
If they do not vomit again and return to their normal selves, it's very possible that something they ate upset their stomach.
However, if they vomit more than once, or if they are experiencing any other changes in their normal behavior, we always suggest taking them in.
If your cat has an underlying illness of any kind, we suggest reaching out to your vet at the first sign of symptoms.
Nausea is a common sign of complications with underlying conditions, so any previous diagnosis should warrant an immediate call to your vet.
Final Thoughts
Cat vomit can come in an array of different textures and colors.
Be sure to monitor the appearance of your cat's vomit when possible, as this can offer the clues needed to make a definitive diagnosis.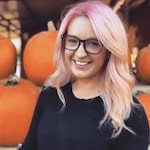 My name is Amber. I am a dedicated animal lover that turned my passion into my career. I am a Licensed Vet Tech with 12 years of experience in veterinary medicine, but I recently took my career online to help spread accurate information on animal care. With how vast the online world is, I have a strong desire to ensure that the reader always walks away with helpful pet advice. With the experience I've gained from my time in this field, I have been able to travel the world, offering my services to as many animal rescues as I can find. If I am not at my laptop, or back home visiting family, you can find me somewhere in the world, cuddling every furry friend that I can find! More About Us