What Is Spondylosis in Dogs?
Spondylosis is an odd condition that can cause our canine companions great discomfort. Though this condition can range in severity, it's important to be aware of the symptoms in case your furry friend is ever affected.
In this article we will dive into what spondylosis in dogs is, and how to manage this condition once it is diagnosed.
So What Is Spondylosis In Dogs?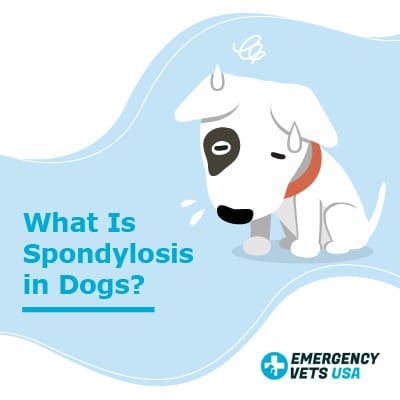 Spondylosis in dogs is a spinal condition that is characterized by the presence of bony spurs, or osteophytes, along the spine. This degenerative condition is most common in older dogs, but can also be a result of injury at any age.
These bone spurs can develop on one single spot, or can even grow in multiple places along the spine. While some cases are minor and do not cause any symptoms, some bone spurs can grow so large that protrusions along the spine are visible to the dog's owners. While spondylosis can occur anywhere along the spine, the most common area for these spurs to form is the junction where the rib cage meets the abdomen.
What Are The Symptoms Of Spondylosis In Dogs?
The symptoms of spondylosis in dogs will vary for canine to canine. Just because your dog has spondylosis does not mean they will display any of the following symptoms. Some dogs will never experience a single issue, while others will experience great pain. Since these cases will vary so much, your furry friend may fall somewhere along this spectrum. Some of the common symptoms include:
Stiff movement
Lameness or limping
Motion restriction
Slow to get up after naps
Pain along the spine if the bone spur is severe
What Causes Spondylosis In Dogs?
In most situations, spondylosis will occur as a result of aging. Since our dogs will acquire so much wear and tear over the years, many experts believe that every single dog will develop spondylosis at some point tif they live long enough. Aside from being caused by the natural aging process, it can also be a secondary issue to degenerative disc disease in dogs.
Another possible cause of spondylosis is due to spinal injury of some kind or excessive stress on the body. Whenever the discs in the spine are injured, this leads to instability between the discs. As an attempt to compensate, the body will often create these bony spurs in the weak spaces. Though the body sees this as a way to strengthen the weak spots, it can result in pain for your furry friend down the road.
While spondylosis can affect any dog, it's most common in large breeds. Because of this, many veterinarians advocate for offering a nutritional diet and keeping your large breed pup active and healthy for as long as possible.
How Is Spondylosis Diagnosed?
The most common way to accurately diagnose spondylosis in dogs is by taking an X-ray. Since so many dogs will never experience symptoms, many times this is an incidental finding when a dog has an x-ray performed for another reason.
If your dog is actively experiencing symptoms of spondylosis, your veterinarian may need to take multiple x-rays to get an accurate image of the entire spine. They may also recommend an MRI for more severe cases.
Treating Spondylosis In Dogs
So how do you treat a dog for spondylosis? Since there are so many ranges in severity of the condition, it will truly depend on the symptoms your dog is experiencing. In order to help you understand all the treatments that are available, let's dive into all the options!
Pain management: if your dog is experiencing any pain from their condition, your doctor will likely prescribe NSAIDS. These medications will help to not only control pain, but to also manage the inflammation that is causing the pain.
Supplements: While this can be considered a treatment, many vets will recommend to start all large breed adults on joint supplements from the moment they reach 1 year of age. Since large breeds are prone to joint and bone conditions of all kinds, joint supplements can help to prevent these issues in the future.
Weight loss: Many dogs that struggle with spondylosis are overweight. If this is your furry friend, your veterinarian will recommend a diet and activity plan going forward. This will help to not only make your dog healthier, but to remove additional stress from the spine and joints.
Surgery: If your dog's spondylosis is severe and putting stress on any of the nerves, your veterinarian will speak to you about surgical options. While the need for surgery is rare, it can give great relief to dogs that are suffering.
Tips For Making Your Dog With Spondylosis Comfortable
Though your veterinarian can offer medical support for your canine companion, there are a few changes you can implement at home to help their spondylosis as well. Some of the easiest ways to make the more comfortable include:
Offering a dog bed that is approved for joint support. This can offer them extra comfort each night as they sleep.
Lifting their food and water bowls off the ground so they don't have to bend over for each meal
Try your best to prevent weight gain
Offer gentle exercise to help keep excess weight off, as well as help their mobility
Add daily joint supplements into their routine. Just be sure to discuss joint supplement options with your veterinarian before starting.
Speak with your vet about acupuncture and if it could help your dog's condition.
Summary
Though spondylosis can be a scary diagnosis for dog owners, there are multiple ways to keep your pup comfortable throughout the journey. Be sure to review the information we've mentioned above, and your dog can continue to thrive despite their condition!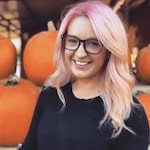 My name is Amber. I am a dedicated animal lover that turned my passion into my career. I am a Licensed Vet Tech with 12 years of experience in veterinary medicine, but I recently took my career online to help spread accurate information on animal care. With how vast the online world is, I have a strong desire to ensure that the reader always walks away with helpful pet advice. With the experience I've gained from my time in this field, I have been able to travel the world, offering my services to as many animal rescues as I can find. If I am not at my laptop, or back home visiting family, you can find me somewhere in the world, cuddling every furry friend that I can find! More About Us