Pet Cremation Cost
The loss of a furry friend is a heartbreaking time in pet ownership.
Not only can this be a stressful moment in general, but we must then make a sudden decision on what to do with their remains.
Having a cremation plan in place can make this moment easier, and can take a bit of the burden off your shoulders.
In this article we will go into the details of cremation in pets, and help you understand the standard cost to expect for your beloved companion.
Don't get overwhelmed, but read through each of the cremation options below as you will need to make a choice for your pet.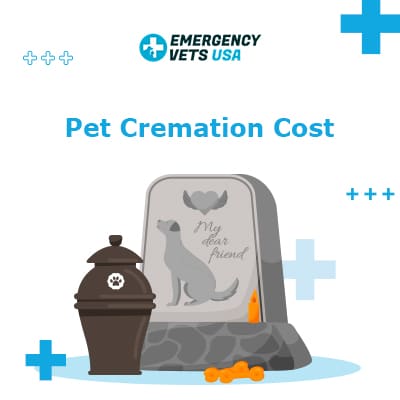 What Is Pet Cremation?
Pet cremation is simply a way to remember your pet and keep their remains in your possession in a way of your choosing.
The cremation process involves the placement of your pet's body in a high temperature environment, which results in the vaporization of their remains into a dust form.
Once your pet has been cremated, you can then choose the method in which you would like to receive their remains.
Some pet owners choose a memorial urn, jewelry, cedar box, remembrance stones, and more.
Pet cremation allows multiple ways to remember your pet in a beautiful way.
The Different Types of Pet Cremations
When you choose to cremate your beloved pet, you will often choose from a few cremation options.
These options will be based on whether or not you would like their ashes returned, as well as pricing based on their overall weight.
1.) Communal Pet Cremation
Communal pet cremation is the route pet owners take when they do not wish to receive their pet's ashes.
In a communal pet cremation, there are multiple animals placed in the incinerator.
Due to this, it is impossible to separate each pet's remains after.
Though the pet owner will not receive the ashes, many cremation companies spread the ashes themselves in their pet cemetery.
2.) Individual Pet Cremation
Though not all cremation companies offer this option, you may see an individual pet cremation listed as a service.
Individual pet cremation does incinerate multiple pets at once, but does their best to separate each pet during the process.
There is still the possibility of getting your pet's remains back with this option, but it may include small remnants of other pet's remains as well.
If this option is available, it is usually a bit cheaper than the next cremation option on the list.
3.) Private Pet Cremation
A private pet cremation is for the pet owners that want their pets remains returned to them.
This involves the incineration of your pets remains only, and no other pets will be involved in the process.
Private cremation ensures that only 1 pet will be in the cremation chamber at a time, meaning there is little to no chance of contamination with other ashes.
What Factors Affect Pet Cremation Costs?
When determining the differences in pricing for cremation options, there are a few factors to consider.
Pet disposal costs will vary based on animal size, cremation choice, and even animal type.
Animal Size
Pet cremation pricing will vary based on your pet's weight.
This is due to the resources needed to put your pet in the cremation chamber, as well as how long the cremation process can take based on body size.
Because of this, the cost of cremation will often increase the larger your pet is.
Animal Type
While this is not always the case, some cremation services will have different pricing systems based on the type of animal that is being cremated.
While this is mainly due to changes in weight, it can also be due to their potential exposure to any infectious disease.
For example, some crematory services charge different prices for wildlife.
While we know it is not as common for someone to own exotic or wildlife pets, it is worth mentioning just in case.
Cremation Choice
The last factor that will affect your cremation cost is the type of cremation that you choose for your furry friend.
Since a private cremation only allows one pet to be in the cremation chamber at a time, this option is always more expensive than a communal cremation.
Communal cremation options will usually be the most cost effective option for each pet parent.
How Much Does It Cost To Cremate A Dog?
While each cremation service will vary based on your company of choice, there is an average cost that we can offer for each weight range and cremation option that you choose.
To help you have an idea of what to expect, let's discuss the average cost to cremate a dog.
Communal Cremation (dog is cremated with other pets)
0-30 lbs: $45-$75
30-50 lbs: $50-$80
51-70 lbs: $50-$100
71-90 lbs: $100-$150
91lbs and over: $150-$200
Private Cremation (dog is cremated alone & ashes are returned)
0-30 lbs: $100-$175
30-50 lbs: $150-$250
51-70 lbs: $200-$300
71-90 lbs: $250-$375
91lbs and over: $350-$450
How Much Does It Cost To Cremate A Cat?
Since the average cremation service is based on weight range, you won't often see any change from dog cremations to cat cremations.
To ensure that you have an idea of what to expect, we will show you the average costs one more time for a standard cat weight range.
Communal Cremation (cat is cremated with other pets)
Private Cremation (cat is cremated alone & ashes are returned)
Where To Get My Dog Cremated?
Now that you have an understanding of the cremation options that will be available to you, it is time to help you choose the best cremation company for your furry friend.
Almost every veterinary clinic works with a cremation company, of which they can offer special prices for long term clients.
We always suggest checking with your local veterinarian first, but there are ways to research other cremation services in your area.
The first way to find a cremation service near you is by doing an easy online search.
By looking up cremation companies in your area, you can review different package options and find a company that suits you best.
Many companies will either allow you to bring your pet into their facility once they have passed, or they will pick up your pet's body from your vet's office.
Another wonderful way to find the best cremation services around you is by talking with your friends and neighbors.
Many pet owners have had to experience this loss as well, and can tell you which company they trusted with their pets remains.
Additional Cost After The Cremation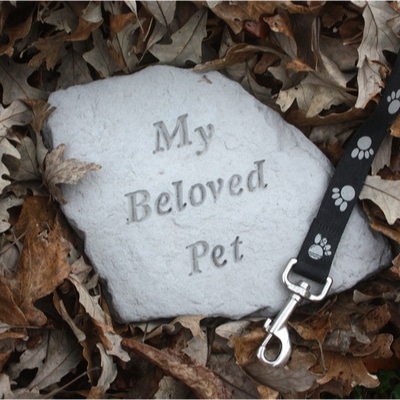 We want to make sure you understand that there could be additional cost before or after you cremate your pet.
Some places will charge a fee for picking up your pet and bringing them back to the crematory.
Depending on what you want to do after your pet has been cremated, there are additional cost for things like urns, memorials, or burial plots at a pet cemetery.
Our cat was buried in a pet cemetery along with other pets.
This did not cost us additional but was the cheapest option given to us.
Pet Cremation Urns
Pet urns can range from $50 for a basic cedar wood box and up to $300 for a marble box or glass/stone container.
There are some companies who custom make these urns and can even engrave dates, pictures and names on them to give them more meaning.
The basic urns offer a simple solution for placing the ashes of your pet into a safe place.
If you find an urn online, they will usually have a way to measure how big of an urn you will need.
The rule of thumb is that one pound will equal one cubic inch.
Calculate Your Pets Urn Size
| | |
| --- | --- |
| Pet's Weight in Pounds | |
| Cups of Ashes (1 Cup = 8 Fluid Ounces) | |
| Minimum Urn Size Needed in Cubic Inches | |
| | |
Enter Pet's Weight then click calculate
1 Pound = 1 Cubic Inch
1 Cup = 14.44 Cubic Inches
Pet Memorials (Stones, Slabs)
For those who bury their pet in their backyard, you can always mark that spot with a pet memorial marker.
Usually these markers are stones, granite slabs or cement blocks.
There are companies that will take the ashes of your pet and make them into a memorial stone.
This might be a better option for those who tend to move around. If you put the ashes of your pet into a concrete memorial stone like Ashtone Memorials, then anytime you move you can bring your pet's ashes along with you.
This company can do the work for you at $189 or you can order one of their DIY kits for $99.
Burial Plot / Pet Cemetery
If you have your pet cremated, most will offer to put their ashes in a pet cemetery as part of their service.
There are some places where you can buy a burial plot but these prices will begin around $1,000.
Most won't include the marker which will increase the cost of having a burial plot.
Final Thoughts
Pet cremation is a wonderful way to remember the furry friend that you loved so dearly.
Depending on your local and state laws, you may also be able to bury your pet in your backyard.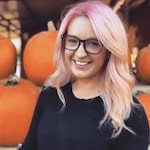 My name is Amber. I am a dedicated animal lover that turned my passion into my career. I am a Licensed Vet Tech with 12 years of experience in veterinary medicine, but I recently took my career online to help spread accurate information on animal care. With how vast the online world is, I have a strong desire to ensure that the reader always walks away with helpful pet advice. With the experience I've gained from my time in this field, I have been able to travel the world, offering my services to as many animal rescues as I can find. If I am not at my laptop, or back home visiting family, you can find me somewhere in the world, cuddling every furry friend that I can find! More About Us