Emergency Veterinarians in Denton, TX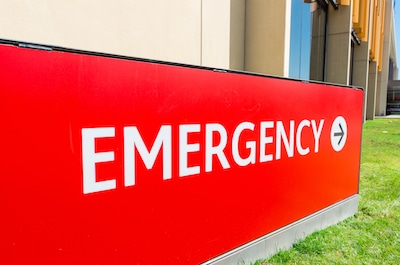 There are emergency vet clinics in most areas across the USA. Finding a good emergency medical clinic is your best option to ensure that your pet receives top-notch medical attention. To find the right emergency veterinarian clinic, here are some of the few steps that you can start with:
Ask advice from your existing veterinarian
Pet owners can seek advice from a regular veterinarian on facilities offering good emergency services. In some cases, veterinarians provide the needed emergency services whereas others refer the client to a 24-hour emergency animal hospital they trust.
Given the ability to search anything online, it is easy to find an animal care facility in the event of a pet emergency. You can search by using terms such as "emergency vet Denton TX" or "animal hospital near me". You may also use other platforms such as social media like Facebook and Instagram. Use the right search keywords plus the name of your city to find the nearest clinics that can cater to your pet's needs.
Do you have friends and family members who take care of pets as well? Perhaps they can recommend an excellent veterinary clinic. In case they can't provide you with the necessary recommendations, try reading online reviews instead. Ask for their recommendation and opinion on a particular animal clinic. Remember, it is prudent to do your research beforehand.
Emergencies are unplanned incidents, and in case of one, you can save a lot of precious time since you already have an idea on the best and nearest clinics to take your pet
---
Denton County Animal ER
Number: 940-271-1200
Address: 4145 S Interstate 35 #101, Denton, TX 76208
Website: dcaer.com
Description: Denton County Animal Emergency Room is a fully equipped, state-of-the-art veterinary ER that offers compassionate emergency care for both you and your pet. We perform a wide range of diagnostics, surgical procedures and emergency critical care.
Hours of Operation:
Monday – Thursday: 8:00AM – 5:00PM
Saturday -Sunday: 24
---
Animal Medical Center
Number: 940-383-8800
Address: 8106 W University Dr, Denton, TX 76207
Website: dentonvet.com
Description: Animal Medical Center is a full service animal hospital and welcomes both emergency treatment cases as well as pet patients in need of routine medical, surgical, and dental care.
Hours of Operation:
Monday – Friday: 8:00AM – 6:00PM
Saturday: 11:00AM – 12:00PM
Sunday: Closed
---
Denton Veterinary Center
Number: 940-380-9393
Address: 1901 Wind River Ln, Denton, TX 76210,
Website: dentonvetcenter.com
Description: Pet emergencies, accidents and illnesses are unfortunately an inevitable aspect of being a pet owner. We understand how upsetting it is when your pet is sick or injured. Denton Veterinary Center offers pet emergency services and critical care veterinary medical services.
Hours of Operation:
Monday – Friday: 8:30AM – 5:30PM
Saturday – Sunday: Closed
---
What is an Emergency Veterinarian?
Animal doctors spend more than eight years in the university in order to master critical concepts in veterinary medicine. As such, they can attend to a wide range of animals and help with all sorts of health conditions. After a veterinarian finishes school and training, they have several career path options:
General practice veterinarians
They are the regular veterinary doctors who provide general care and treat minor health conditions. They are trained to take care of all kinds of animals and attend to a wide range of diseases and health conditions. In case your pet needs a quick medical service, you can go to a regular veterinarian. Some general practitioners provide medical services during hours, while others are available on-demand. It's highly likely that your pet's current emergency animal doctor is a general practitioner.
Many veterinarians work at emergency clinics, so they get to work with various types of cases including broken legs, eye injury, bleeding and heat stress. They work with a large number of patients each month, so they are adept in providing quick and effective medical services for emergencies. With their exposure to various cases and types of animals, emergency veterinarians can easily handle any type of situation.
Many veterinarians invest time, money and resources to expand their knowledge and experience further. Unlike a general practitioner, a veterinary specialist focuses on a particular area. For example, he/she might only cater to reptiles, canines or felines.
A few examples of specialists include cardiologists, ophthalmologists, animal welfare, dentists, and dermatologists. Only this type of specialist can carry out the surgery. In Denton, you can find a large number of ACVECC certified veterinarian specialists.
What you can expect from an emergency vet
Upon arrival, the veterinarian will conduct a thorough physical examination to assess the overall condition of your pet. The doctor will check the breathing rate, pulse rate, body temperature as well the animal's ability to sit, walk and breathe. The veterinarian may also examine various parts of the body to check for abnormalities.
If the animal has a broken leg due to an accident, the doctor may also check for signs of internal injuries so that they can recommend the most appropriate medical procedure. The medical assistant will check the condition of your pet and determine the best possible tests needed. Once the vet completes the initial physical diagnostic test, they might recommend further tests to cross-reference their initial findings and to avoid further complications. After the test results are analyzed, you will receive the complete treatment plan. The treatment plan will contain the pet's condition plus the required medication and medical procedure.
Signs that your pets need immediate medical attention
Pets can't communicate how they feel with their owners. As such, it is your job to look out for specific symptoms. Make a checklist and take note of your observation so you can explain the condition to your pet's veterinarian. Below are some general symptoms you must check. If you observed these symptoms, drive to the nearest emergency care center for pets:
Severe depression or loss of consciousness
Breathing trouble
Sudden paralysis
Injuries or trauma like a broken bone or a dog bite
Inability to urinate
Bloated abdomens together with depression, restlessness or
loss of appetite
Severe seizures
Severe or uncontrollable vomiting
The symptoms enumerated above are only a few examples. These are just general examples. To know the other signs, try to contact your pet's physician. They can give you a complete list of symptoms. Aside from the symptoms, be extra attentive to any changes in behavior and activities. These may be telltale signs that your pet needs medical attention. Don't wait until the next morning before you contact a veterinarian.
How much does a Denton ER vet costs?
The monetary value of an emergency vet appointment in Denton is generally variable, based on the nature of your pet's condition. For example, if the case requires major surgery, you can expect to pay at least $4,000. According to the latest statistics, pet owners usually pay around $800 to $1,500 every time they go to the vet clinic for emergency service. You should at least allot $300 for basic medical treatment and medication.
If your pet needs hospitalization because of a significant injury or a severe health condition, you can expect the medical bill to go as high as $4,000. Take note that you must have the payment ready before the scheduled treatment. As such, you need to prepare for your pet's future expenses as early as you can. Read the terms and conditions of the policy to ensure that you provide ample coverage for your beloved pet.
Remember it is essential to have insurance coverage for your pet. Some insurances may cater for all medical bills and thus making it beneficial. It may be necessary to consult with your Veterinarian on the best medical insurance coverage for your pet. Alternatively, you can opt for the use of Care Credit. This is a credit line that is mostly used to cover medical or dental costs for human beings Comprehensively the company also extends its services to include medical care for pets.
Also, you can save money each month. Emergency veterinary services can cost a lot of money so you should start preparing for future needs as soon as you can. This way, you can be more prepared for anything that may happen in the future.