Can My Dog Get Coronavirus? Here Are What The Experts Say
The short answer to this is we don't exactly know yet, but so far the experts are saying the this new Coronavirus cannot be transmitted from human to animal. So far there is no evidence that dogs can get the new Coronavirus that is currently causing panic around the world. As of this writing there hasn't been any known cases of pets (dogs) getting the new Coronavirus. There was one case in Hong Kong, but veterinarians believe that the COVID-19 was on the dog's fur and the dog did not get sick from the virus.
What Are The Experts Saying About Coronavirus and Your Pets
According to the American Veterinary Medical Association (AVMA) and the World Health Organization (WHO),
Infectious disease experts and multiple international and domestic human and animal health organizations agree there is no evidence at this point to indicate that pets become ill with COVID-19 or that they spread it to other animals, including people.
That being said, it is recommended that people who do get sick or diagnosed with COVID-19 should take certain precautions around their dogs:
Limit contact with your dog or other pet
Have another person walk, feed, and play with your dog or other pets
Wear a face mask if you have to take care of your dog or if they are a service dog
Wash your hands before and after any contact with your pet
Again, these above recommendations are just for people who are diagnosed with the new Coronavirus.
What Should You Be Doing For Your Pets?
You do not want to abandon your pets during this coronavirus pandemic, like so many people have as mentioned in this CNN story.
It is always best to take precautions to prevent yourself from getting this virus. For that you should keep yourself and your dog or other pets indoors while this virus passes by. Both the AVMA and the WHO recommend maintaining good hygiene and washing your hands frequently as well as practicing "social distancing". Take your dog for a walk, get exercise but avoid public areas or being near too many people. This coronavirus spreads from close human contact.
If your dog is a therapy dog and you usually volunteer with them at nursing homes, libraries, or schools, it's best to forgo that activity for the time being until things calm down and we have more information about this virus.
There are products you can get to clean your dogs paws after a walk:
Dogs Do Have Their Own Type of Coronavirus
The above information is focused on the new coronavirus, currently referred to as COVID-19, that is causing respiratory infections in people. It's important to know that dogs do have their own type of coronavirus, that is completely unrelated to the current pandemic. The canine coronavirus infects dogs' intestines, causing abdominal pain and diarrhea. It mostly affects puppies and young dogs, and there is a vaccine for it. It is not transferred to people and you cannot get it from your dog. You can read more about this known virus that affects dogs here.
Talk To Your Veterinarian If You Have Questions About COVID-19
Your veterinarian will still be your best guide on what you should do during this time. If you have questions give them a call or send them an email. They will know the history of your pet and can help give you recommendations on what you should and should not do. Exercising caution is always your best option. Since this new strain, COVID-19 is affecting humans around the world, research and studies are still being performed on it. As time goes by we will all learn more on how to deal with it.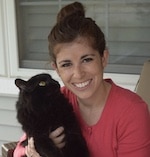 Leslie Brooks graduated from the University of Tennessee College of Veterinary Medicine in 2012. After graduation she moved to Indianapolis to do an intensive one-year internship at a specialty practice and then began working as a small animal general practitioner. She ran her own house call practice for three years, visiting pets in people's homes. Currently, she works part time in clinical practice and volunteering her free time to serve pets of the homeless. Read more about us here.