Emergency Veterinarians in Norman, OK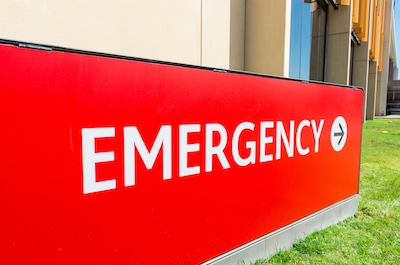 Pet owners can choose from a long list of emergency vet clinics in their area. You must also determine the vet clinic only caters to a specific type of animal for example reptiles, small animals and felines. But, how can you find the perfect emergency clinic for your pet? Here are some useful pointers that you can apply:
Ask advice from your existing veterinarian
The veterinarians you have worked with in the past are most likely to recommend some of the best ER clinics in the city. If your current veterinarian does not offer emergency care, they will know where to send your pet. Give them a call and ask.
To look for a possible candidate, search online with terms such as emergency veterinary in Norman. If you want to be more specific, use keywords like "emergency vets for dogs in Norman OK". This will help you narrow down the results quickly to find the best place to take your pet. We have also done the research for you and have listed a few practices at the bottom of this page with their phone number and driving directions.
Seek help from friends and family.
If your friends or family also have pets, you should try asking for their suggestions. They might know a seasoned emergency vet clinic in the area. Being prepared can make a huge difference in how a critical scenario will turn out. Try to have a list of three potential emergency clinics in your area. Inquire about their services, fees, and availability and determine if they are a good fit for your pets.
---
Alameda Animal Hospital
Number: 405-360-0045
Address: 431 12th Ave NE, Norman, OK 73071
Website: alamedaanimalhospital.com
Description: We offer to our patients and clients a modern, clean, and comfortable environment while practicing high quality veterinary care with compassion and professionalism. We are a full service veterinary hospital to our clients while providing these services with experience, kindness, and respect.
Hours of Operation:
Monday – Friday: 8:00 am – 6:00 pm
Saturday: 8:00 am – 12:00 pm
Sunday: Closed
---
Equi-Center Veterinary Hospital
Number: 405-366-9328
Address: 6600 W Rock Creek Rd, Norman, OK 73072
Website: equicentervet.com
Description: Equi-Center Veterinary Hospital is proud to serve Norman, Oklahoma City, Newcastle, Blanchard, Purcell and the surrounding communities. We are dedicated to providing the highest level of veterinary medicine along with friendly, compassionate service.
Hours of Operation:
Monday – Friday: 8:00 am – 5:00 pm
Saturday: 8:00 am – 12:00 pm
Emergency: Open 24 Hours
---
Rose Rock Veterinary Hospital & Pet Resort
Number: 405-321-3361
Address: 400 24th Ave NW, Norman, OK 73069
Website: roserockvethospital.com
Description: At Rose Rock Veterinary Hospital and Pet Resort in Norman, Oklahoma, we understand the special role your pet plays in your family. That's why we're dedicated to providing your pet with the best health care veterinary medicine has to offer. The experienced veterinarians and compassionate staff will care for your pet as they would their own. The number one priority for the entire medical team at our hospital is to practice the highest-quality medicine and surgery with compassion and an emphasis on client education.
Hours of Operation:
Monday – Friday: 7:30 am – 7:30 pm
Saturday: 7:30 am – 3:00 pm
Sunday: Closed
---
What is an emergency veterinarian?
It takes years to study veterinary medicine. The doctor has to spend four years to complete a bachelor's degree program and another four years to finish in veterinary school. After vet school, the animal doctor has the option to extend his study and training further. Below are some of the types of animal doctors you can choose from:
General practicing vets are referred to as regular veterinarians. They can help pets that are sick with all kinds of diseases such as urinary tract infection, animal bites, Q fever, rabies, and common flu. Some general practitioners are only available during office hours, while others extend their shift and serve patients 24 hours a day. General practitioners are qualified to handle emergency cases, and it would be their preference if they are to provide a 24-hour hotline that clients can call anytime. To learn about your options, you can consult with your pet's veterinarian. Others team up with emergency and critical clinics and accommodate patients 24 hours a day, seven days a week.
When it comes to attending to immediate medical concerns such as fractures and severe vomiting, you need the help of a seasoned ER animal doctor. They work with a large number of patients each month, so they are adept in providing quick and effective medical services for emergencies. If you're not sure what to do with your pets when they are sick, you can depend on an ER veterinarian to help you.
On top of 8 years of study to become a veterinarian, specialists undergo at least 4 or more years of intensive training and education to specialize in a specific field of veterinary medicine. Unlike a general practitioner, a veterinary specialist focuses on a particular area. For example, he/she might only cater to reptiles, canines or felines. Each emergency clinic should have a critical care vet certified by the American College of Veterinary Emergency and Critical Care (ACVECC) to administer services to your pet during a life-threatening situation. There are also specific doctors that cater to exotic animals, felines, small animals and canines. Emergency clinics may offer services from several specialists including surgeons, neurologists, and cardiologists, among others. They can help in specific situations most especially if your pet has a rare type of illness. There are many Norman veterinarians certified by the American College of Veterinary Emergency and Critical Care.
What you should expect when you go to an ER animal clinic
Many people take their pets to an emergency veterinary clinic each day. When they arrive, the veterinarian conducts a triage. As a rule of thumb, they attend to the most urgent cases first. They don't attend to pets on a first come, first serve basis. In most cases, there is no booking policy in an emergency vet clinic. The assistants will perform the necessary diagnostic tests.
Similar to infants, our pets cannot readily communicate how they feel, so a thorough evaluation is necessary. Emergency clinics tend to be full of people waiting in line so don't panic. You can expect the emergency veterinarians to explain the procedure every step of the way. Once the doctors complete the initial assessment, they might require additional laboratory tests such as urine analysis, fecal analysis, and blood tests to ensure that they don't miss out on any possible threat. Take note that you won't be allowed to come with your pet because of the large number of patients being treated. Once the results are in, the doctor can prescribe the required medication or procedure. Rest assured that the doctor would provide the best possible medical recommendation.
Common animal emergencies
Pets can't communicate how they feel with their owners. As such, it is your job to look out for specific symptoms. Here are some situations that call for their immediate medical attention:
Severe depression and loss of consciousness
Injuries
Difficulty breathing
Seizures
Staggering,
Lameness
Sudden paralysis
Inability to urinate or defecate
Swollen abdomens
Severe vomiting or diarrhea
The symptoms above are only general examples. These are just general examples. To know the other signs, try to contact your pet's physician. Pay attention to any sudden changes in your pet's behavior because it might be a sign that they are suffering from a medical condition. If you are not sure about your pet's condition, always consult the vet. They can provide you with quick and effective solutions as soon as possible. Don't wait until the next morning before you contact a veterinarian.
General costs of an emergency vet clinic visit in Norman
It is difficult to provide a rough cost estimate because each case is different. However, you should prepare at least $800 to $1,500 most especially if your pet suffers from a significant health problem. Try to ask for the rates of the clinic so you have an idea how much you might spend on your pet.
Severe conditions that require hospitalization or surgery may show a relevant surge compared to a less critical case. To prepare for future expenses, you must start saving as early as you can. Read the terms and conditions of the policy to ensure that you provide ample coverage for your beloved pet.
If you have pet insurance, the company might provide coverage for the fees involved. Find out which policy works best for your case by doing a bit of research and asking recommendations from your trusted friends and family. Consult with your pet's doctor about the insurance coverage in case you're not sure which policy provider you should pick.
If you use Care Credit, you can extend your available credit line. They can cover your pet's emergency care. If you are not a fan of getting loans or insurance plans, saving up for an emergency fund is also another smart option. Any method you select for preparing for an emergency beforehand will help you in making things much easier in case of an emergency and efficiently help your pet to receive the medical care they require.